Welcome to
Fountain Beach Resort
As of 09/01/22 the Fountain Beach Resort will be a non-smoking facility . There will be designation smoking areas.
Come stay on "The World's Most Famous Beach!"
Along Daytona Beach's 23-mile stretch of sun-drenched coastline, there's no shortage of things to do. Surfers command the roll of the ocean, scuba divers explore beneath the surface, stock cars buzz around the track at the Daytona International Speedway, and families casually stroll past the illuminated amusement-park rides on the Daytona Beach boardwalk.
Perfectly located along Daytona Beach, The Fountain Beach Resort offers a premier location in relation to the area's fun-filled attractions. With a stay at Fountain Beach Resort, you'll be on the beach and minutes from shopping, eateries, the Ocean Center, Boardwalk Amusements, Ocean Walk Shoppes , Pier and more.
Our rooms offer private balconies, all with some sort of an ocean view and come with small refrigerators, microwaves, and coffeemakers. You can always upgrade to a one bedroom suite which accommodates a family comfortably for a longer stay.
Outside, there's an expansive deck around a seasonally heated pool and hot tub. The pool deck is lined with lounge chairs, and back dropped with palm trees. Our fitness center and sauna is just one more amenity we offer to meet your needs.
Our Guests are never far from the sand or surf at the on site Oasis Tiki Bar & Grill, where American cuisine and cold drinks meet sweeping ocean views. We provide daily Entertainment (seasonal), with great food, fun staff and plenty of sunshine to make it the best Tiki Bar on The World's Most Famous Beach.
When you find yourself perched atop the sea wall at our 100' long drink rail sipping a cool libation, watching others frolic in the Atlantic ocean and taking in the mesmerizing sea of blues and turquoise you'll know you've found paradise at the Fountain Beach Resort.
COVID-19

Update 06/23/2021
Thank you to all of our guests and owners who have been supportive of the changes we have made due to COVID-19.
Protecting our employees and guests is uppermost in our minds, so plexiglass barriers have been installed at the front desk. Because our housekeepers perform a thorough cleaning of the rooms upon checkout, which takes a longer time period, we are unable to offer late checkouts at this time.
Housekeepers will only clean your room during your stay if you request it, when they do the cleaning you will need to leave the room.
The breakfast and hot tub are both reopen as of June 28th.
The lower portion of the pool deck remains a non-smoking area however, smoking is permitted in other designated areas.
Thank you and we hope to see you soon!
Bob Trudeau
The Fountain Beach Resort
Our beautiful mural has been added to the Daytona Beach Mural Trail! You can see it and the others
here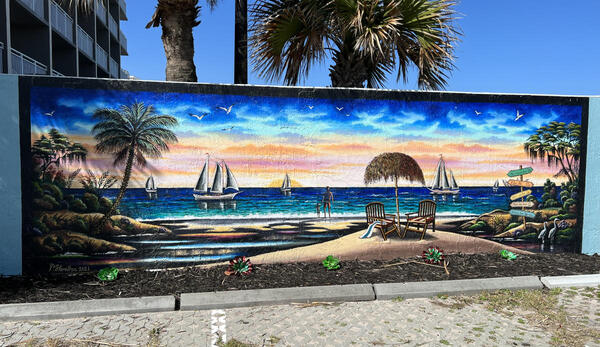 Specials

Amenities

* Beachfront Property

* 24 Hour Help Desk

* Heated Pool & Hot Tub

* Free Self Parking

(

1

vehicle

per room please) (summer and special events)

* Free Wifi

* Free Local Calls

* Free Continental Breakfast

(subject to blackout dates)

* Conference Room

* Guest Laundry

* ATM

And more!
Gallery